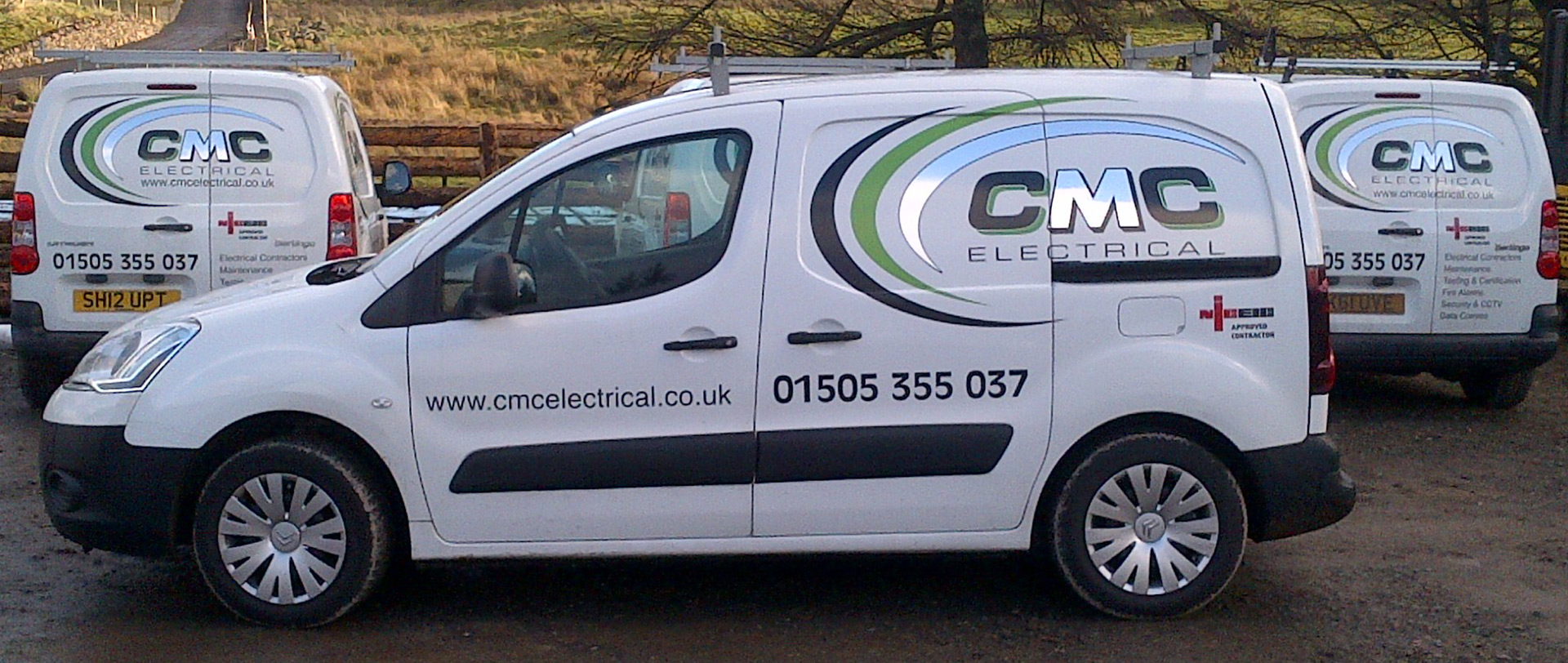 Client Testimonials
Here is a small selection of some of our client testimonials. Use the arrows below to cycle through. Written references are available on request.
I would highly recommend CMC electrical as I have used Craig for the past 10 years and cannot fault him and his team.
CMC Electrical have great knowledge and workmanship whilst providing a reliable excellent service, Craig is always proactive and also on hand to support and guide you through the legal requirements. Over the years I have built up a strong relationship and can trust Craig to support our network and also be available even at short notice to support.
I am confident that CMC would be able to meet any companies expectations for both standards of work and reliability and I am happy to recommend.
Maureen Greenaway, Head of QHSE UK
CMC Electrical Ltd, have now achieved being an approved contractor with our organisation for five years. During the course of this time we have shared in observing their business growth in the electrical sector. Throughout this time CMC have undertaken electrical project work for our Company and provided an excellent design, installation & commissioning service, as well as, the service, maintenance and repair programme of a wide range of electrical and fire safety systems for our Company's specific requirements. I have every confidence and would not hesitate to recommend CMC Electrical as they are a highly skilled, reliable & dependable Electrical Contractor with a trusting and friendly approach to their work ethic.


Norman Taylor, Facilities Manager
The team at CMC are professional and knowledgeable. They are quick to respond and deal efficiently with any electrical issues I have. The infrastructure in my house is quite complicated and previous tradesmen have compounded problems we've had in the past. CMC have understood our needs. Over time, they have re-organised the cabling and distribution boards/circuit charts etc. more effectively, identified and rectified safety issues and generally improved how our system operates. This has been done without suggesting unnecessary works or cost and always at minimal disruption. When in my home, they are discreet, get on with the job and are very tidy.

I would never use any other firm.
CMC Electrical has carried out a lot of work for our company Advance Construction Scotland Ltd and we are more than pleased with the quality of works that they provide. They carry out an excellent service and are always on time. If they quote you a time for finishing their works they keep to their word. They have also done work for us personally in our own home over the years and I would rate CMC Electrical as one of the best electrical companies around, we have never had any problems with them and would recommend them to anyone, you can be assured of great workmanship, friendly faces and very reasonably priced in their works



Daniella Shields, Advance Construction Scotland Ltd
We have now worked with Craig Campbell and his Team at CMC for over 10 years, in both our Construction and property management divisions of our Business. We have always found CMC to be very professional in their approach to, accurate and detailed costings, works on site and to our clients direct.

Craig's personal, hands on, day to day involvement with our projects right from the outset for me is what makes the difference. Without asking we are issued well advance of project completions with test certification, O and M manuals etc for our client handovers and our own records. The office staff are also helpful with any reactive jobs we have , always calling to make sure I know that it has been completed or what action is needed. CMC to me offer the complete service with, Electrical installations, Data installations, 24 hr call outs and Testing and would have no hesitation of recommending Craig and His team to others.
Allan Mcwhirter, Sterling Construction and AGM Property & Project Management
CMC provide a fantastic service and especially with our ageing building and electrics they are always on hand to help out and for the regularly occurring problems we have. They were first asked to carry out the job of evenly distributing our electrics over the 3 phases and now carry out all our electrical jobs from fixing existing light fittings to wiring new light systems.


Nicola Wilkinson, Sloans Bar & Restaurant.
CMC Electrical fitted security cameras that can be viewed either on screen in house or online.

Not only where they on time they confirmed exactly what was required prior to beginning any work and at the end of every day gave feedback on any tasks that where still outstanding.

The work was done with complete professionalism and we did not require decorators to finish the job as all done by CMC Electrical. Thank you for a job well done.
Adele Marzella,Talk Time UK